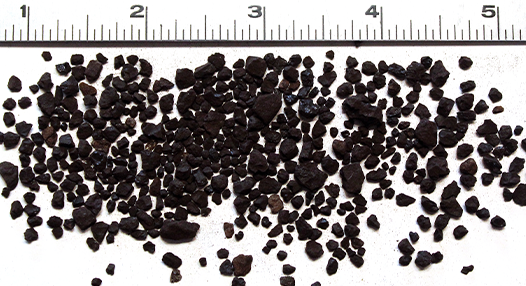 Leonardite Products
Source Coarse™
Source Coarse™ is a specialty product processed April – September. Advance orders suggested.
Source Coarse™ is dried through a drum dryer using natural gas regulated to an average of 168º Fahrenheit (75º Celsius). Sizing Source Coarse™ is accomplished with three decks of vibrating stainless-steel screens.
Typical Data

Moisture Content: 28-32%
pH: 4
Bulk Density: 45 lbs/cu ft
Size: 1/4 inch to 11 Mess Minus

Humic Acid: 51.65% (HPTA2 Method) | 49.11% (CDFA Method) | 74.04% (Colormetric Method)
Fulvic Acid: 3.07% (HPTA Method)




Packaging
Available with warm dry weather loading conditions.
US
Metric
1,000
Pounds
500
Kilos
2,000
Pounds
1,000
Kilos